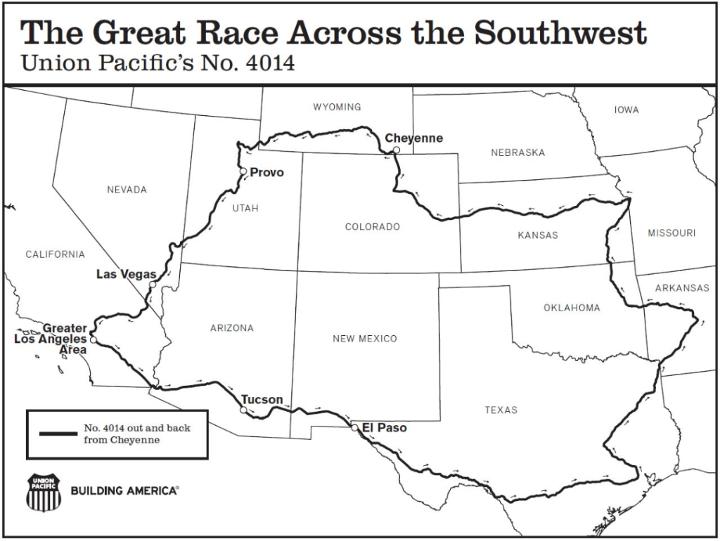 The Big Boy's return to the rails is the product of more than two years of meticulous restoration work by the Union Pacific Steam Team. No. 4014 is the world's only operating Big Boy locomotive.
Union Pacific's historic Big Boy steam locomotive No. 4014 is touring the Union Pacific system throughout 2019 to commemorate the transcontinental railroad's 150th anniversary.
The Union Pacific Railroad's Big Boy No. 4014 will arrive for a Whistle Stop on Tuesday, November 12 in Atlanta at 1015 - Texarkana at 1130 - Hope, Arkansas at 1:45 p.m. The train will then travel to Prescott to stay overnight on its way to North Little Rock, AR. Photos will be allowed the train has stopped but there will not be tours on the train until it reaches NLR.
Tuesday, November 12

Marshall, Texas
Lake Street and Main Street

Depart

8:00 a.m. CT

Atlanta, Texas
W Tipton St. & S West St.

Arrival
Depart
10:15 a.m. CT
10:30 a.m. CT

Texarkana, Ark.
100 E. Front St.

Arrival
Depart
11:30 a.m. CT
12:15 p.m. CT

Hope, Ark.
100 E. Division St.

Arrival
Depart
1:45 p.m. CT
2:15 p.m. CT

Prescott, Ark.
403 W. 1st St.

Arrival

3:00 p.m. CT

Wednesday, November 13

Prescott, Ark.
403 W. 1st St.

Depart

9:00 a.m. CT

Gurdon, Ark.
Main St. Crossing

Arrival
Depart
9:45 a.m. CT
10:00 a.m. CT

Arkadelphia, Ark.
Walnut St. Crossing

Arrival
Depart
10:45 a.m. CT
11:00 a.m. CT

Malvern, Ark.
200 E. First St.

Arrival
Depart
12:00 p.m. CT
12:45 p.m. CT

Little Rock, Ark.
1400 W. Markham St.

Arrival
Depart
2:30 p.m. CT
2:45 p.m. CT

North Little Rock, Ark.
1000 West 4th Street.

Arrival

4:00 p.m. CT