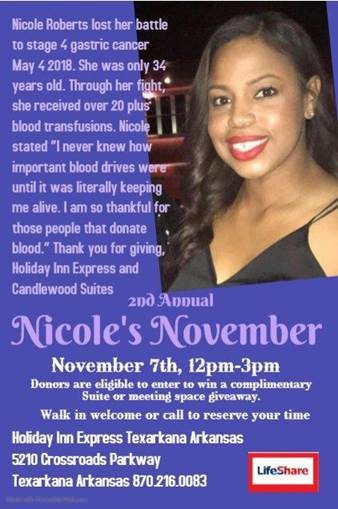 November is Gastric Cancer Awareness Month
Hersha Hospitality Management (HHM), who manages Holiday Inn Express & Suites Texarkana Arkansas and Candlewood Suites Texarkana Texas, is hosting Nicole's November to create awareness and honor the legacy of Nicole Roberts, an employee who lost her battle with gastric cancer in May 2018.
On May 4, 2018 Nicole Roberts lost her short 4 month battle with gastric cancer. Nicole left behind a husband, three kids, parents, siblings, and an entire company that loved her. After being diagnosed with stage 4 gastric cancer in January 2018, Nicole endured 20 plus blood transfusions that kept her alive. Nicole stated "I never knew how important blood drives were until it was literally keeping me alive. I am so thankful for those people that donate blood."
Nicole was the Director of Sales at the Holiday Inn Express & Suites in Terrell, Texas however her light touched the entire Texas region. All 22 HHM properties located in the U.S. Central Region will be hosting Nicole's November which includes a blood drive in her honor. Holiday Inn Express Texarkana Arkansas, November 7, 2019 12pm till 3pm.