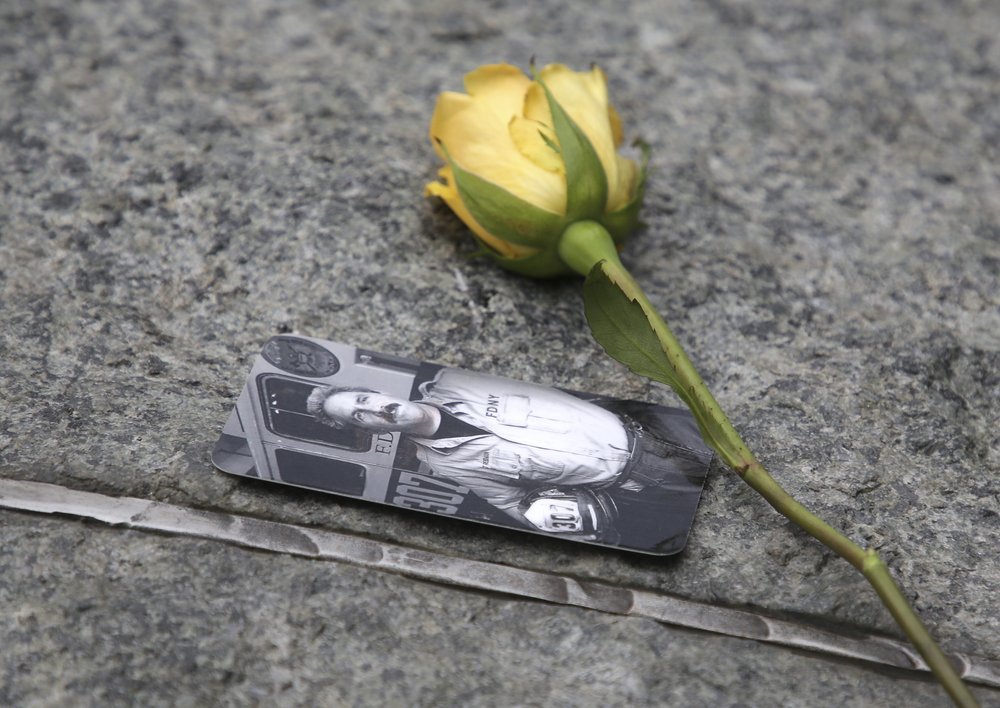 (AP Photo/Seth Wenig)
Subtle and sculptural, the memorial glade features six stone pieces inlaid with steel salvaged trade center steel. They jut from the ground along a tree-lined pathway.
When the names of nearly 3,000 Sept. 11 victims are read aloud today at the World Trade Center, a half-dozen stacks of stone will quietly salute an untold number of people who aren't on the list.
The granite slabs were installed on the memorial plaza this spring. They recognize an initially unseen toll of the 2001 terrorist attacks: firefighters, police and others who died or fell ill after exposure to toxins unleashed in the wreckage.
The unusual addition reflects a memorial that is evolving as the aftermath of 9/11 does. And for families like Joanna Reisman's, the new 9/11 Memorial Glade gives their loved ones a place in the landscape of remembrance at ground zero.
A firefighter's widow, she emphasizes that the losses thousands of families suffered on Sept. 11 were horrific.
"We just have to recognize that there were others, too," says Reisman, whose 54-year-old husband, Lt. Steven Reisman, searched through the World Trade Center debris for remains, and then died in 2014 of brain cancer. He was 54.
The collapse of the trade center's twin towers produced thick dust clouds, and fires burned for months in the rubble.
Many rescue and recovery workers later developed respiratory and digestive system ailments potentially linked to inhaled and swallowed dust. Some were diagnosed with other illnesses, including cancer.
Research continues into whether those illnesses are tied to 9/11 toxins.
Caryn Pfeifer has had many people to grieve for over the past 18 years.
First there were the colleagues and friends whom her husband, firefighter Ray Pfeifer, lost on 9/11 and whose remains he sought in the debris. Then there were those who got sick and died over the years, as he fought for health care for first responders while battling his own kidney cancer.
Now she also mourns her husband. He died in 2017, at 59.
With the new memorial glade, she says, "now we have a place to go and sit, think about everybody, and just pray for the next poor guy."