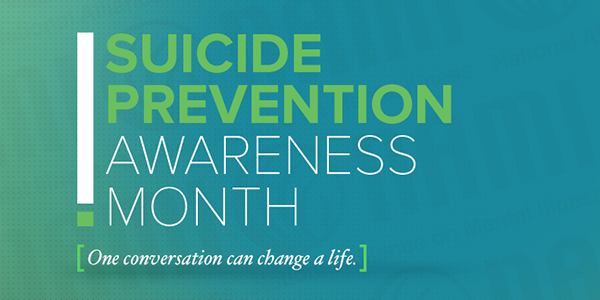 September is known as National Suicide Prevention Awareness Month which helps promote resources and awareness around the issues of suicide prevention, how you can help others and how to talk about suicide without increasing the risk of harm.
All month, mental health advocates, prevention organizations, survivors, allies, and community members unite to promote suicide prevention awareness. www.suicidepreventionlifeline.org.
"Suicidal thoughts, much like mental health conditions, can affect anyone regardless of age, gender or background. In fact, suicide is often the result of an untreated mental health condition," according to the National Alliance on Mental Illness (NAMI). www.nami.org.
Youth Suicide
Young people are experiencing the emotional pain of hopelessness and helplessness. Suicide is the second leading cause of death among youth aged 10-19 years in the U.S. and on average, over 100 young people this week will become victims of youth suicide.
Suicide in the Military
According to a 2019 report by the Defense Suicide Prevention Office, 325 active-duty members died by suicide in 2018: 139 active-duty soldiers, 68 sailors, 60 airmen and 58 Marines. www.military.com.
A 2019 article in Stars and Stripes reported that 78 airmen, spread across the entire Air Force, has died by suicide in 2019. And the year is not over.
This month the Marine Corps will highlight prevention efforts, promote resources and support services, and engage Marines and families in an awareness campaign that will promote community connectedness and belonging. www.usmc-mccs.org
If you are a Veteran in crisis — or you're concerned about one — free, confidential support is available 24/7. Call the Veterans Crisis Line at 1-800-273-8255 and Press 1, send a text message to 838255, or chat online.
Suicide and Ethnicity
Suicide prevention is a high priority for people working to promote wellness and reduce health disparities affecting American Indians and Alaska Natives (AI/AN). Drawing on strengths within Native traditions, community leaders and experts are developing models that are culturally based to promote mental health and prevent suicide for future generations. www.sprc.org.
The National Suicide Prevention Lifeline is available at 1-800-273-8255 or by texting "START" to the Crisis Text Line at 741-741.
Resources in our area: Serving as the mental health and intellectual disability governing authority for Bowie, Cass, Gregg, Harrison, Marion, Panola, Red River, Rusk and Upshur counties -
Community HealthCore 2435 College Dr, Texarkana, TX 75501
Intake / Admission
Diagnostic Services
1-800-4-INTAKE
1-800-446-8253

CRISIS LINE
24 Hours a Day / 7 Days a Week
1-800-832-1009